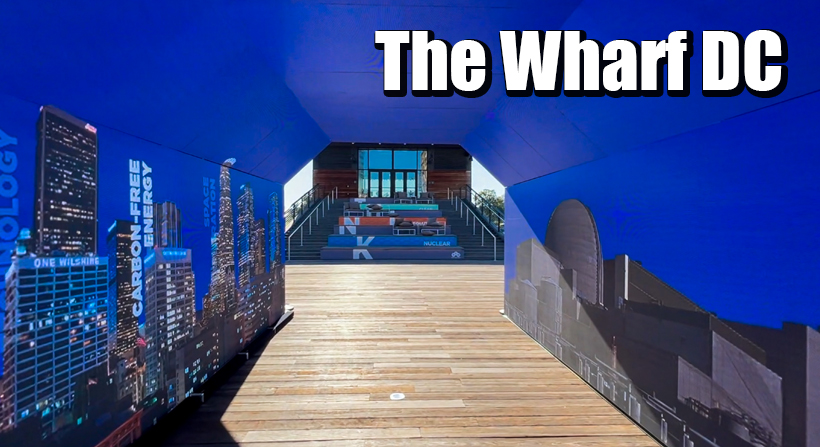 Nuclear Science Week is an international week-long celebration to bring attention to nuclear science and its impacts on national, state, and local levels. This year, for their Evening Off The Hill Event, Nuclear Science Week hosted experts in the field at the DC Wharf to "discover what it means to Think Clean. Think Solutions. Think Nuclear." The event was made truly spectacular by a one-of-a-kind Pixel Wall LED Video Tunnel.
The creative LED video wall design was presented by event organizer, Elizabeth Makkai with Dufour Collaborative. In order to satisfy this unique challenge, Pixel Wall LED technicians provided a concept for NSW. The concept was first rendered in a 3D design, then models were constructed in the real world for proof of concept. For each revision of the tunnel was constructed, changes were made and the design was improved. Pixel Wall Team maintained contact with NSW event organizers via remote video sessions and constantly updated the design to meet NSW's needs. When the final design was delivered, NSW gave extremely positive feedback thanks to the excellent communication and the excellent design.
On the day of the event, the LED Video Tunnel was constructed by the Pixel Wall team in a timely, organized manner. The operation had been meticulously planned and the complex design that had taken weeks to develop took only hours to put up. Pixel Wall's construction of the LED Video Tunnel is a shining example of the high-quality service one can expect.
When posed with a unique challenge, Pixel Wall provided a unique, custom solution that not only demonstrated the ability to engineer a sleek cutting-edge design but also received high praise from both clients and guests at the event. Pixel Wall's LED Video tunnel showcased the best of what NSW had to offer and transformed the Evening Off the Hill into a night to remember.